What Are Powrholds?
Powrholds are a revolutionary grip strength trainer developed by climbers for climbers. When paired with the Eleviia, they are the most transportable finger trainer for climbing on the market. Take them travelling so that on your off days you can train in the hotel, or take them to the crag and clip them into a hanger.
Powrholds Features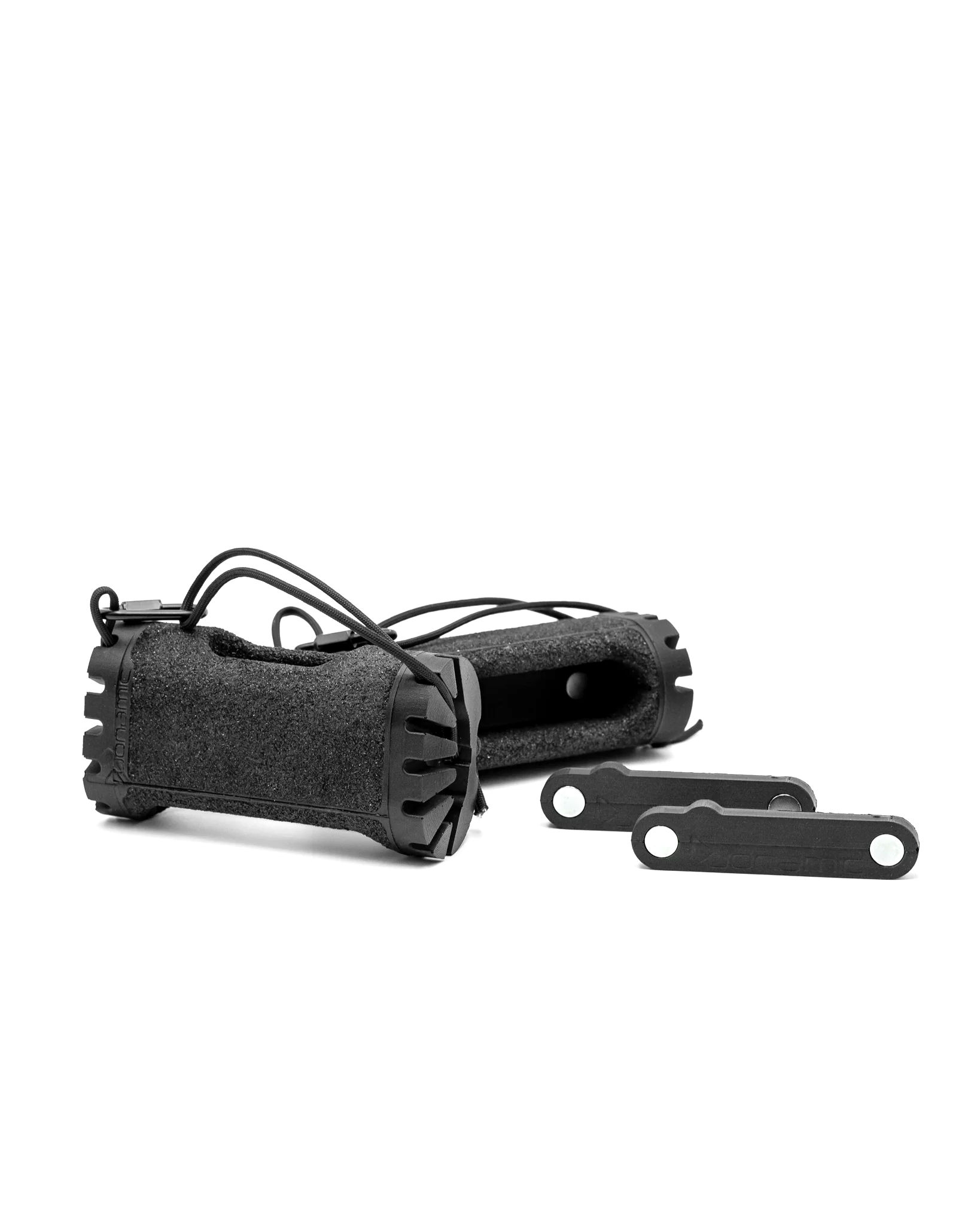 Angle Adjustment
By adjusting the position of the rope into the different grooves on the Powrholds, you can change the angle at which your grip rests. Challenge yourself by simulating a variety of rock climbing slopes.
Adjustable Crimp Depth
Easily adjust the depth of your grips by inserting/removing the included magnetic shims. Less depth means you need more finger strength.
Powrholds Specialized Texture
Duonamic uses our proprietary texturing process to create a unique texture that is skin-friendly yet feels like rock.
Shim Storage
You can place the slim lightweight shims underneath the Powrholds on the magnets while they are hanging or keep them placed inside the Powrholds while stored.
Sloper Grip

Decreasing the angle of the Powrhold turns it into a sloper hold. The textured surface allows you to maintain grip while you use your fingers to stick to the hold. Increasing the angle increases the challenge.
Jug Grip

Easiest hold style. Perfect for beginners who are looking to build extra forearm strength.
Edge Grip

Removing all the shims allows you to fit your fingers all the way into the slot. Perfect for people beginning grip training.
Crimp Grip

Adding shims into the slot allows you to reduce the amount of room that you can fit your fingers. Increasing the number of shims increases the challenge. Decreasing the angle also increases the challenge, which might come in handy for that future Dawn Wall summit.
Pinch Grip

One of the more advanced hold styles of the Powrhold. Allows the user to pinch thehold to maximize grip training. We recommend starting near horizontal and rotating it closer to vertical, increasing the challenge. Probably the best grip to include in your training regimen.