What is Eleviia?
Eleviia is the first true, portable, doorway exercise equipment that is built with versatility in mind. The options are anything but limited with different attachments for different exercises, including climbing and gymnastics. This system is carry-on friendly and very easy to both install and use. It is meticulously engineered through FEA and prototypes and is manufactured to the highest standards. Eleviia is a favorite training tool, loved by American Ninja warriors, climbers and fitness enthusiasts.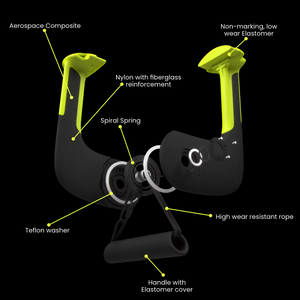 The Core of Duonamic
Eleviia
leviia is made up of 20 custom designed components. Even the screws that are used to secure the end caps are custom made for Duonamic!

All components are manufactured to the tightest tolerance to make sure Eleviia fits perfectly together.

The combination of custom engineered components and high precision manufacturing gives Eleviia is an unique look and feel.
Portability
Eleviia's carefully optimized design fits in a bag that's just 25cm × 23cm × 11cm, and weighs 1.6kg, so you can take it anywhere.
Ease Of Use
Eleviia comes completely assembled out of the box, and installation takes 7.92 seconds (yes, we timed it). The CLAMP SAFE feature utilizes a spiral spring to keep it safely secured onto the door trim.
Ergonomics
The rope connection offers an extra degree of freedom so you can position your wrist and elbow in the most comfortable position during your workout.
Aerospace Composite
Eleviia is made of aerospace composite material with high strength and high stiffness while keeping the weight down.
Eleviia Spring Tester
This mechanism tests the long-term spring performance of Eleviia by repeatedly opening and closing the clamp. After testing with a full load for more than 40,000 cycles, the spring still functions effectively.
Eleviia Fatigue Tester
This device tests the long-term performance of Eleviia. For over 15,000 repetitions, a full load is mechanically applied via stepper motor and weight. Even after rigorous testing, the system is solid and is ready to support its next athlete.
See the CLAMP SAFE TECH & Non Marking TPE in Action